14 Insane Festivals Worldwide
Show me a person who hates festivals and I will show you a person who needs to get laid very badly…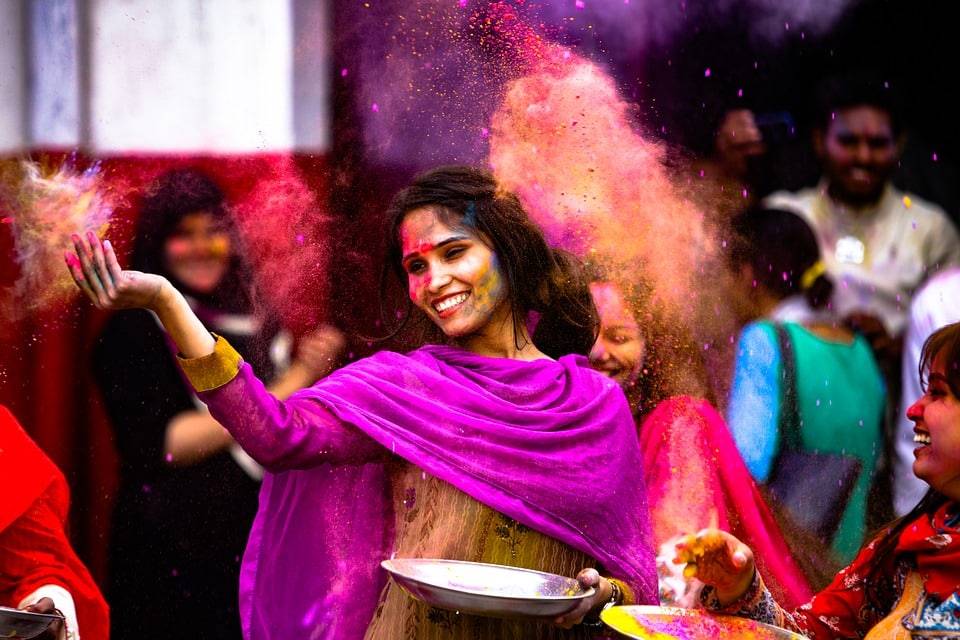 I mean who doesn't like to be lost in the sound of magical music and chants, vibrant colors and fierce dancing, and uplifting-almost-orgasmic rituals, right? Who doesn't like to be smiling and laughing and playing amongst the most joyful souls—
Yeah, ok, people who haven't been laid for the longest time.
Right.
Alright then, here's a list of the 14 most insane festivals worldwide (a) to give all the festival lovers a guide for their next adventure; (b) help our poor brothers and sisters who badly need to get laid—festivals are the best place to find lurve yah know. ;)
01—The Burning Man, Black Rock Desert, Nevada, USA
What Wikipedia says about it:
Burning Man is a week-long annual event held in the Black Rock Desert in northern Nevada, in the United States. The event begins on the last Monday in August, and ends on the first Monday in September, which coincides with the American Labor Day holiday. It takes its name from the ritual burning of a large wooden effigy, which is set alight on Saturday evening. The event is described as an experiment in community, art, radical self-expression, and radical self-reliance. Burning Man is organized by Black Rock City, LLC.
What People say about it:
"We're here to shine our brightest and to do what we love and share that with each other and find each other and find other playmates and create more magic and beauty in the world in infinite different ways. Just look around everything is represented here. Burning Man is the paradigm. If you look deeper than the party—it is the new paradigm. Everybody can have that much love in their lives it's just a matter of working together."—Jane Shore, Burning Man Participant.
Score amazingly affordable hotels in Reno, Nevada!
What Wikipedia says about it:
It is a spring festival celebrated as a festival of colors.It is a Hindu religious festival which has also become popular with people of other communities. It is primarily observed in India and Nepal.                                 
What People say about it:
"All I see is a collection of beautiful souls, sparkling in the sun like diamonds."—Marie Pedler, Holi Festival Participant
Enjoy the best cheap hotels in India with these superb options!
03—Frozen Dead Guy Days, Nederland, Colorado
What Wikipedia says about it:
Is an annual celebration held in the town of Nederland, Colorado, to loosely celebrate, through a theme of frozen/ice/blue/winter, the 1994 discovery of the cryonic statecorpse of Bredo Morstel.
What People say about it:
"It's a lot of fun, I love bellyflops, hope the hole doesn't refreeze!"—Pinky Columbres, Festival Participant
04—Mardi Gras, New Orleans, USA
What Wikipedia says about it:
Refers to events of the Carnival celebrations, beginning on or after Epiphany and culminating on the day before Ash Wednesday. Mardi gras is French for Fat Tuesday, referring to the practice of the last night of eating richer, fatty foods before the ritual fasting of the Lenten season, which begins on Ash Wednesday.
What People say about it:
"Mard Gras, baby. Mardi Gra. Time when all manner of weird shit cuts loose and parties down." —Sherilyn Kenyon, No Mercy
Bag surprisingly cheap accommodations in New Orleans with these hotels!
05—Songkran Water Festival, Thailand
What Wikipedia says about it:
The Songkran festival listen; from theSanskrit word saṃkrānti or literally "astrological passage") is celebrated in Thailand as the traditional New Year's Day from 13 to 15 April. It coincides with the New Year of many calendars of South and Southeast Asia.
What People say about it:
"Participating in Songkran is a great way to escape the scorching temperatures in April—the hottest month of the year. –Greg Rodgers, About
Enjoy amazing hotel bargains for your Bangkok escape!
06—La Tomatina, Buñol, Spain
What Wikipedia says about it:
Is a festival that is held in theValencian town of Buñol, a town located 30 km from the Mediterranean, in which participants throw tomatoes and get involved in this tomato fight purely for fun. It is held on the last Wednesday of August, during the week of festivities of Buñol.
What People say about it:
"EEEEEeeeee PEOPLE are CLIMBING THE POLES. Oh, man this is awesome. People are crazy!" –Jaime Davila, Breakaway Backpacker
Experience a memorable trip to Buñol without spending a fortune with these great hotel bargains.
07—Oktoberfest, Munich, Germany
What Wikipedia says about it:
The world's largest fair held annually in Munich, Bavaria, Germany. It is 16-day festival running from late September to the first weekend in October with more than 6 million people from around the world attending the event every year.
What People say about it:
"Oktoberfest is a celebration, and craft brewers in the US have earned the respect of the world. Brewers make special beers to fit the occasion."—Ray Daniels, Festival Participant
Get the best deals for the premier and most awesome hotels in Munich!
08—Monkey Buffet Festival, Lopburi, Thailand
What Wikipedia says about it:
The Monkey Buffet Festival is held annually in Thailand to promote tourism. In 2007, the festival included giving fruits and vegetables to the local monkey population of 2,000 in Lopburi province north of Bangkok
What People say about it:
"This is very exciting because I've never done this before. I've only ever served people in a hotel!" –Hannah's Monkey
Looking for ways to save money for your Lopburi trip? Why not check out these amazingly affordable hotel bargains?
09—Grape Throwing Festival, Mallorca, Spain
What Wikipedia says about it:
The Grape Throwing Festival is held annually during the last weekend in September, in the wine-growing village of Binissalem, Mallorca. The festival celebrates the grape harvest and the main attractions include a grape-stomping competition, grape-throwing fight, and lots of fun.
What People say about it:
"What a way to keep your ears open for the rocket to go off and hear it good, and look amongst the thousands of people for a piper who will be running the streets and follow him to the fields and pelt everyone near you with grapes!"—John Ode, Festival Rat
Get the best deals to the most Instagram-worthy and dazzling hotels in Mallaorca.
10—Halloween Festival of the Dead, Salem, Massachusetts, USA
What Wikipedia says about it:
Also known as All Hallows' Eve, is a yearly celebration observed in a number of countries on October 31, the eve of the Western Christian feast of All Hallows (or All Saints) and the day initiating the triduum of Hallowmas.
What People say about it:
"There's nothing quite like a festive neighborhood soiree to embrace the Halloween spirit. But some cities around the world truly go above and beyond with Halloween celebrations that include plenty of ghouls and goblin. Wow! –Jimmy Ohm, Travel Junkie
Enjoy a rocking stay in Salem for a rather affordable price tag with any of these hotels!
11—Gay Pride Parade, Amsterdam, Netherlands
What Wikipedia says about it:
The Amsterdam Pride is an annual gay festivalin the centre of Amsterdam, organized in the first weekend of August. With several hundreds of thousands visitors this event is one of the largest public events of the Netherlands.
What People say about it:
"Gay Pride is teeming with drama and controversy but the atmosphere and aura in this festival is just fabulous! Bonus: spectacular boat parades!"—Benjamin Beck, Gay Pride Participant
Enjoy a rocking stay in Salem for a rather affordable price tag with any of these hotels!
12—Trinidad and Tobago Carnival
What Wikipedia says about it:
The Trinidad and Tobago Carnival is an annual event held on the Monday and Tuesday before Ash Wednesday, and is well known for participant's colorful costumes and exuberant celebrations.
What People say about it:
"I love how the people welcome—and as I learned, enthusiastically encourage—tourist participation in every aspect of the whirlwind festivities. Just awesome! –Karina Martinez-Carter,Fodors
13—San Fermin Festival, Pamplona, Spain
What Wikipedia says about it:
Most famous for the event called the encierro, or the running of the bulls. It is a deeply rooted celebration held annually from 12:00, 6 July, when the opening of the party is marked by setting off the pyrotechnicchupinazo,[1] to midnight 14 July, with the singing of the Pobre de Mí.
What People say about it:
"There's no doubt why the vast majority of revelers converge on Pamplona in hordes for more than a week in early July each year. This is one thrill-seeking festival, part art form, part horror show!" –Chip Conley, Fest300
Enjoy a rocking stay in Salem for a rather affordable price tag with any of these hotels!
14—Pflasterspektakel, Austria
What Wikipedia says about it:
Is an annual street art festival inLinz, the capital of Upper Austria. It includes musical acts, juggling, acrobatics,pantomime, improvisational theatre, clownery, fire dancing, painting, sambaparades, as well as a programme for children, and is held on three days in July in and around the main square and the Landstraße. In 2010, about 400 artists from over forty nations participated in the event.
What People say about it:
"It definitely encourages a joie-de-vivre mentality and attracts more spectators every year for a fun, interactive break from reality. It just oozes with originality everywhere!" –Shania Ottolenghi, Travel Monsters
And with all that peoples I leave you with Trent Reznor's words of wisdom:
"Live interaction with a crowd is a cathartic, spiritual kind of exchange, and it's intensified at a festival."
Book Your Trip: Logistical Tips & Tricks
Shop for Travel Essentials
Get all of your essential travel gear right from our store. We hand pick the best travel products. Get everything from luggage to camping gear and other travel accessories for your trip.
Find cheap flights using SkyScanner. This search engine is are our favorite, making sure you get the best deal for tickets all over the world. They are great at aggregating flights from multiple providers.
If you're looking for a hostel, you should book it with Hostelworld. If you want to stay somewhere else, book with Booking.com. Their hotel system usually offers the best rates out of any provider worldwide.
Don't forget travel insurance
Protects yourself against illness, injury, theft, and even cancellations with travel insurance. You're buying comprehensive protection in case anything goes wrong. We never recommend traveling without it. We've been using World Nomads, a great company, with great service and highly recommend them.
- World Nomads (for everyone below 70)
- Travelx Insurance (for those over 70)
Disclosure: Some of the links above may be affiliate links, and at no additional cost to you, we earn a commission if you make a purchase. We only recommend products and companies we use and the income keeps the community supported.
---
Back to Travel